What To Wear When Snorkeling for Fun & Safety
Let's answer your questions about what to wear snorkeling. A big part of my travel blog is about Greece. So I'm talking about that since snorkeling in Greece is enjoyable whether you're visiting a big island or a small one or discovering the mainland beaches.
But what to wear snorkeling in Greece is pretty much the same as anywhere else warm. So takes notes for your packing list.
Snorkeling in Cold Water
If you're joining me on my bucket list item number 19. "Swim between tectonic plates in Iceland" then your gear is a bit different.
You'll need to wear a dry suit for snorkeling along with some warm under gear. But let's leave that for another day and assume for now you'll be snorkeling in the sun.
Snorkeling in Greece
I recommend you manage your expectations the first time you go snorkeling in Greece. I.e. it isn't in the top 5 best snorkeling destinations in the world.
So don't go expecting to see the bright colors and diverse sealife you'd get snorkeling in Hawaii around the Hawaiian islands.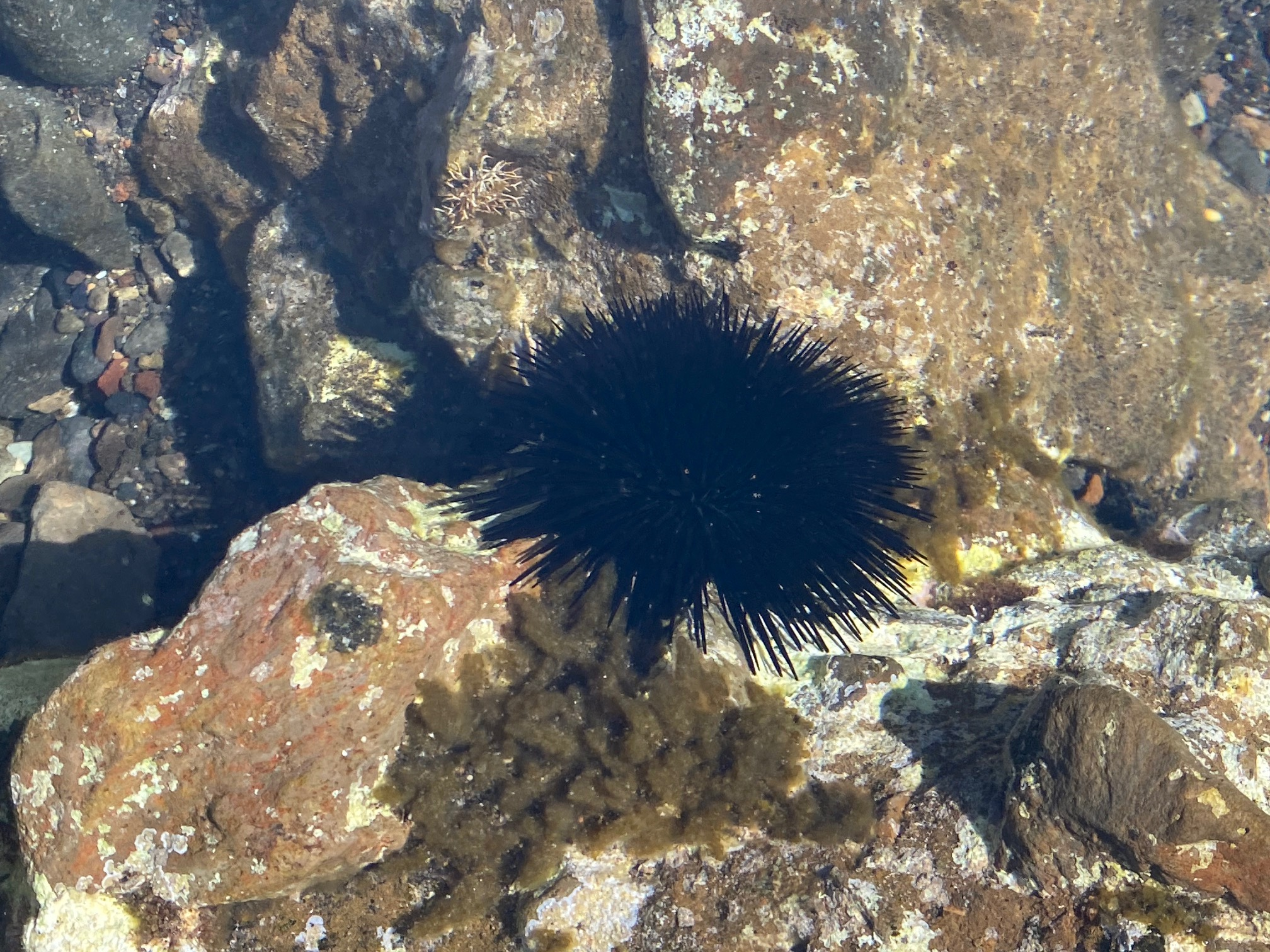 But the sea still has plenty of cool fish and a lovely underwater world to explore. Plus you don't need to worry about shark attacks!
Although you'll find lots of day boat trips to take you on a snorkeling adventure you can just as easily go independently.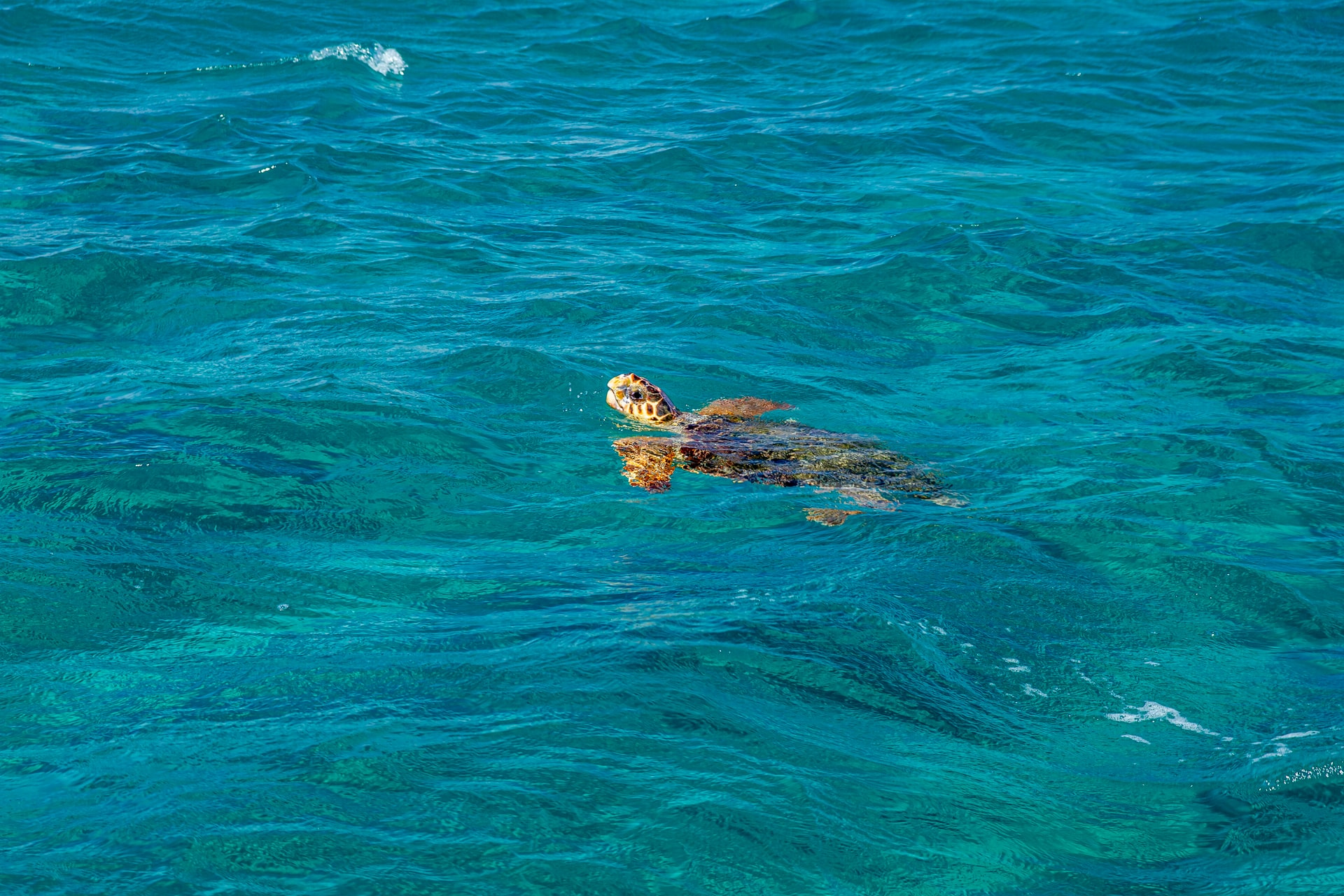 What You Need for Snorkeling
The good thing about snorkeling is that you can do it with minimal gear. You don't need all the technical things that scuba divers do, thank goodness. But let's take a look at what you do need.
The first three things here are the essentials for what to wear snorkeling. The rest you can decide for yourself about.
Swimsuits to Wear Snorkeling in Greece
Whatever swimsuit, bikini or trunks you normally wear to swim in should be fine.
If your bathing suit has any tassels or ties think about taking another swimsuit. I get a bit hypervigilant in the water and give myself a fright sometimes.
Like my water shoes can get air in the heel when I'm kicking about sometimes. Then I panic for a moment thinking some eel has slithered up my foot.
If you have ties or a skirt moving about in the water and it brushes your skin you might freak out a bit thinking something's touched you.
Just keep that in mind and decide which are the best swimsuits for your adventure.
Snorkeling Gear
Technically you don't need to wear a specific mask. You could get away with a pair of normal swimming goggles.
But since you have to come up for air all the time it's not really the best way. You'll want a snorkel mask with a snorkel tube.
Buying Your Snorkeling Stuff on Your Trip
Don't want to add any more to your packing list? These are really easy to get hold of in Greece if you're not bringing your own mask from home.
You'll find them in touristy shops assuming you're not going anywhere off the beaten track.
If there's a proper supermarket nearby then you'll find the snorkeling equipment from there a bit cheaper.
Mask and Tube Snorkel
The cheapest ones have just a long straight tube.
Others are curved with a valve in the mouthpiece to stop water coming in when you're snorkeling.
Full Face Snorkel
This type of diving mask looks horrendous to me, I feel claustrophobic just looking at it.
They're supposed to be designed for beginners. But I'm only giving it a passing mention as I saw something about CO2 build up when they were being used.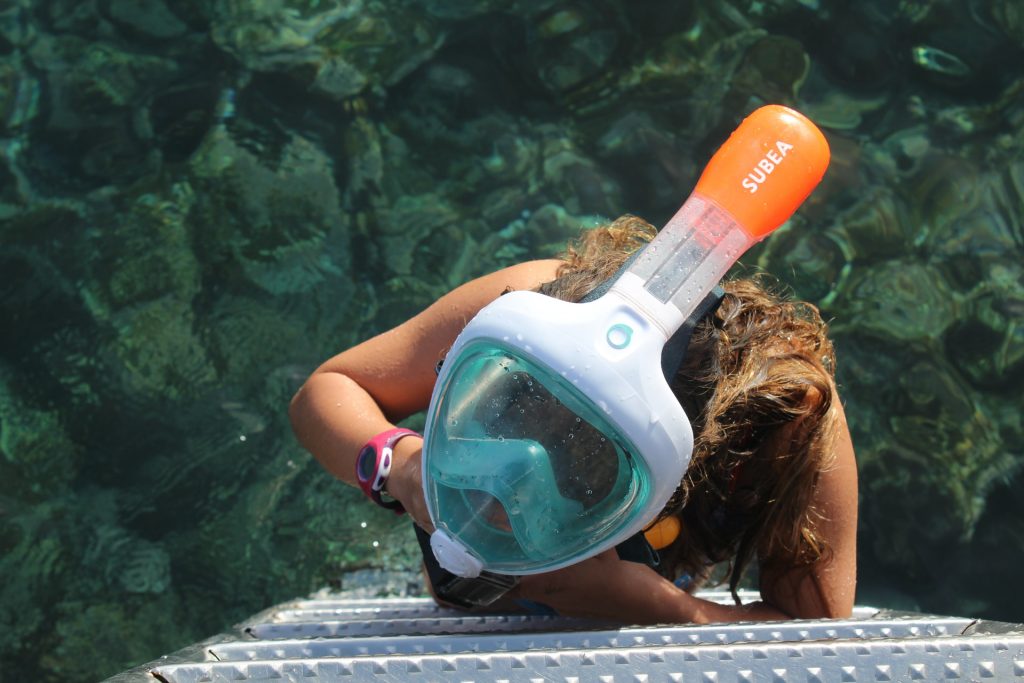 Honestly, I'd stick with the original mask and tube style.
Sea-Safe Sun Protection
I've heard a lot recently about using reef-friendly sunscreen if you go snorkeling or swimming.
Although we don't have coral reef in Greece we still have to think about doing the best for marine life.
If you pick up sunscreen here it might not explicitly say reef-safe sunscreen. But this Apivitia range is the best sunscreen I've used.
Apivita Sun Products
Apivita is a Greek company and certified B Corp. I love their philosophy AND the fact the UV protection cream is 75% natural.
Apivita's sunscreen doesn't contain zinc oxide either which means it doesn't cover you in white streaks. Hurrah!
You'll find Apivitia products (not just the sunscreen) in chemists/pharmacies.
Water Shoes
Water shoes aren't an absolute must-have but they're pretty close.
They're worth putting on your packing list for what to wear snorkeling in Greece if you're going to put your feet down in the sea.
Plus it's a good idea to have something for rocky and pebbly beaches even if you're not doing any snorkeling.
Some islands have black volcanic sand too, which gets really hot (I'm looking at you Santorini.)
You'll want to avoid walking barefoot on it so pack something, even if it's flip-flops.
Best Types of Water Shoes
I've found these ones in the picture above particularly good. I only got them recently when I was at Perissa Beach in the aforementioned volcanic isle.
In the past, I've had the ones in the picture below. They're made from more like a tough neoprene material and they're great for the sand and clambering over rocks.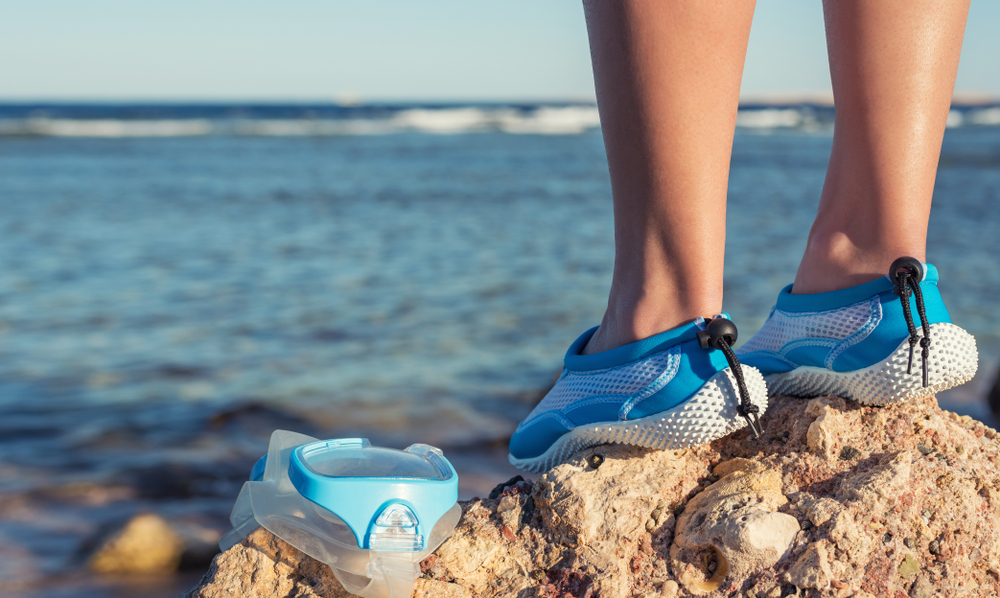 But in the sea, I felt like I wanted to take them off. They created too much drag for my liking.
But these new ones are much better. They're a good fit around my foot and the material is really light.
Like the snorkeling mask sets, these are easy to pick up in touristy seaside places.
Snorkeling Fins
These fins are shorter than what people use for scuba diving but they still give you some extra power.
When you're using them you don't have to work so hard to move about in the water. So it means you use up less energy and don't get tired so quickly. Great if you're not a strong swimmer.
You don't have to put them on your "what to wear snorkeling" list. But they can make the experience more fun, especially if you're doing a longer snorkeling tour.
Rash Vest
These types of UV swim shirts are sometimes called rash guard shirts. I have this one with short sleeves.
I bought it on a whim before a hiking trip a few years ago and it's been a great investment.
If I swim in the evening I don't bother with anything other than my swimsuit.
But if I swim in the daytime I put it on for a bit of extra UV protection. I lose track of time when I'm snorkeling and can end up being in the water for a long time.
The sun's rays really catch my upper body. So this style covering my shoulders and the back of my neck is great.
Wear an Extra Layer in Cooler Months
I wear this top a lot in the shoulder seasons as well. In April/May and around November/December it gives my skin an extra layer of warmth against the cooler waters.
It's not like wearing a wetsuit but it's better than my bare skin against the cold.
You can get long sleeve versions too if you want full coverage protection from the sun or a bit more coverage.
Waterproof Money Belt
If want to keep your valuables on you then look into getting a waterproof money belt. There are various types and styles.
As well as belts that you wear around your waist you can get smaller ones to keep on your wrist too.
Waterproof Camera Case
I bought a waterproof phone case in the past to get underwater pictures. But I didn't 100% trust it would keep the water out and protect my phone.
Or that the string wouldn't drift off my neck and sink my mobile phone to the bottom of the ocean. So, I never used it.
Since then I've seen people wearing ones with floatation devices attached so I should probably try again.
I've seen some boat trips with a snorkeling excursion actually provide you with an underwater camera. So check that option out if you're looking at day trips.
Snorkel Vest
These are a type of nylon life vest. But they're not quite the same as a life jacket you'd wear on a boat.
The idea is that they allow you to snorkel but they turn you on your back and keep your head out of the water if you become unconscious.
It sounds like they're useful if you tire easily too and might just need a rest part way along.
There are two types of snorkel vest.
Bib-Style Vest
The first type is like a bib that you put over your neck. It usually has a waist strap and crotch straps you step into to stop it riding up over your head.
These ones often have a bit of inflation behind your neck. It doesn't get in the way while you're snorkelling. But it supports you if you end up on your back.
Jacket-Style Vest
The other goes on like a jacket and zips up at the side.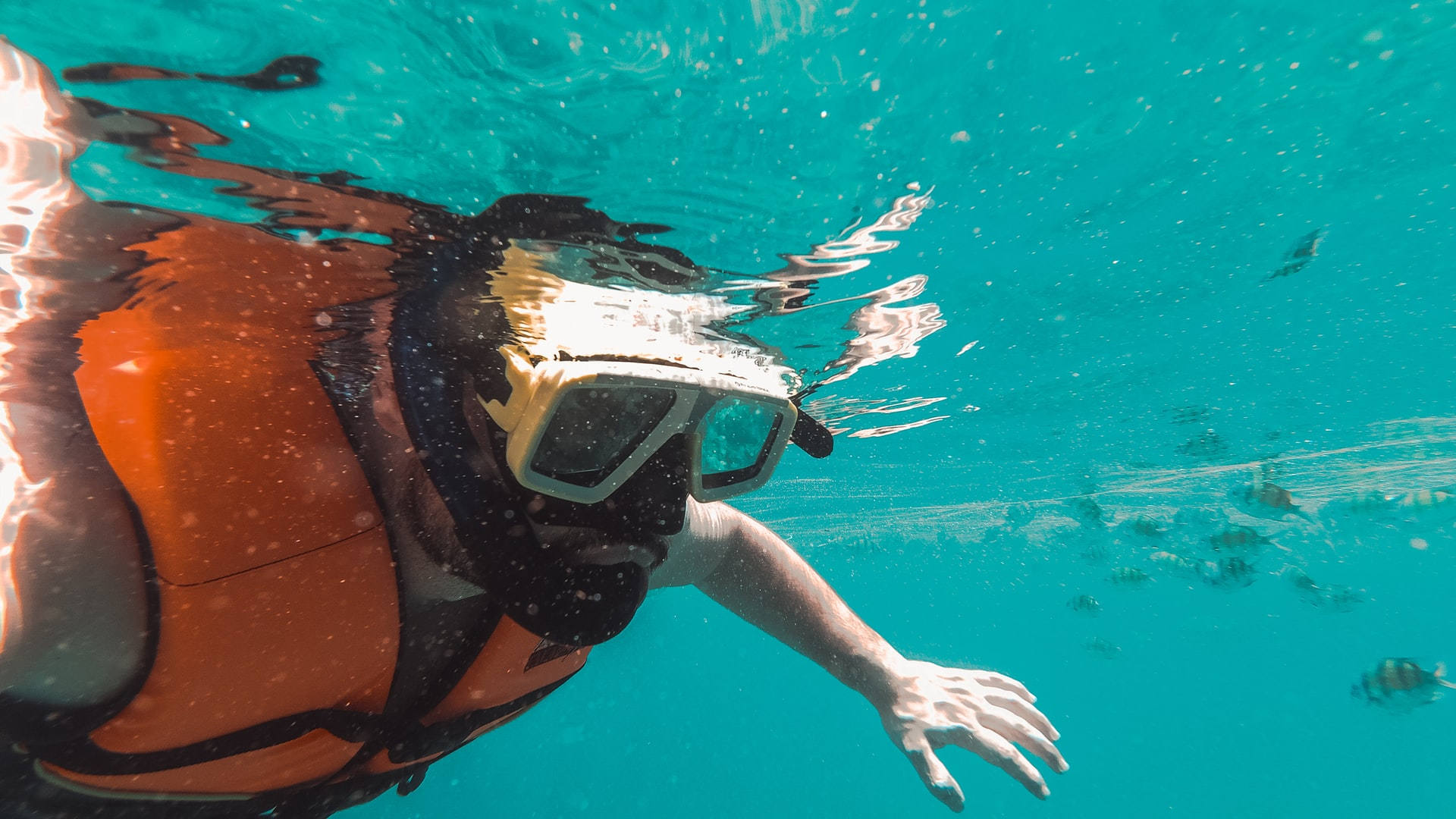 These don't usually have the inflatable bit behind your head. But they can have a nylon/neoprene layer to help keep you warmer.
You can get ones with pockets too, so that could eliminate your need for a money belt.
Wearing Your Snorkeling Vest Properly
The main thing is that you get the right size, ensure it fits well and that you're wearing it properly. (So it doesn't come up over your head.)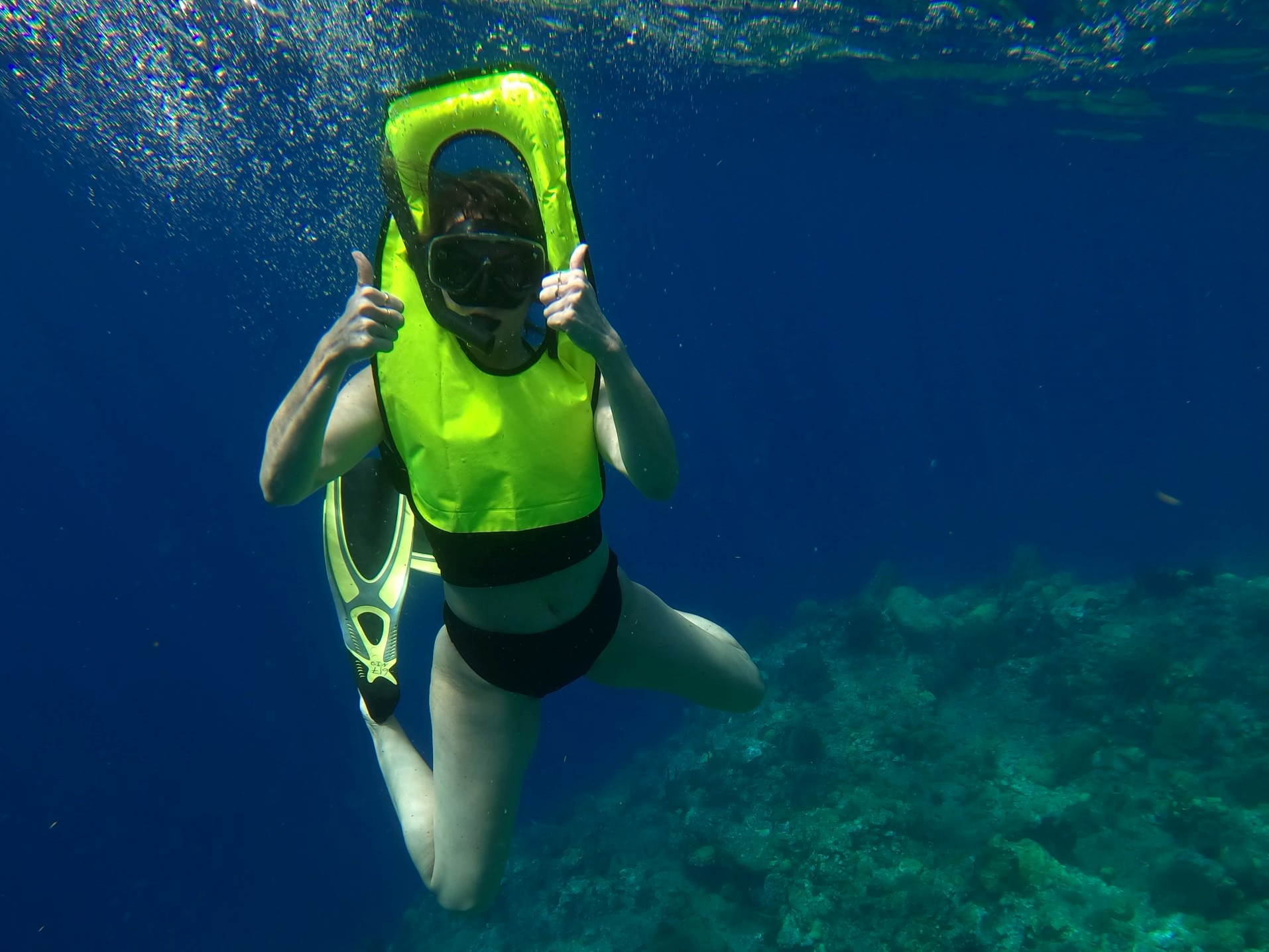 Another thing I like about these is that they can be really brightly coloured.
It means you can see your snorkeling buddy easily if you go off in different directions and get separated.
Plus it means you're more visible to boats when you're in the water. And you're easier to see from the beach if you ever got into trouble.
Take a Change of Clothes
If you're wearing your swimsuit to go to the beach make sure you pack a change of clothes in your beach bag.
You may want to have a shirt or other clothes you can cover your body up with if you've had enough sun.
Clothes and Things to Pack for Snorkeling
Remember you don't need to take everything with you. If you're going to a touristy place you'll be able to pick up the bulky snorkeling things when you arrive.
As a reacap here's what you need to take to wear snorkeling.
Packing list Essentials:
usual swimsuit
suncream
snorkel mask and tube
water shoes
Optional:
rash vest
money belt
waterproof phone holder
snorkeling fins
snorkeling vest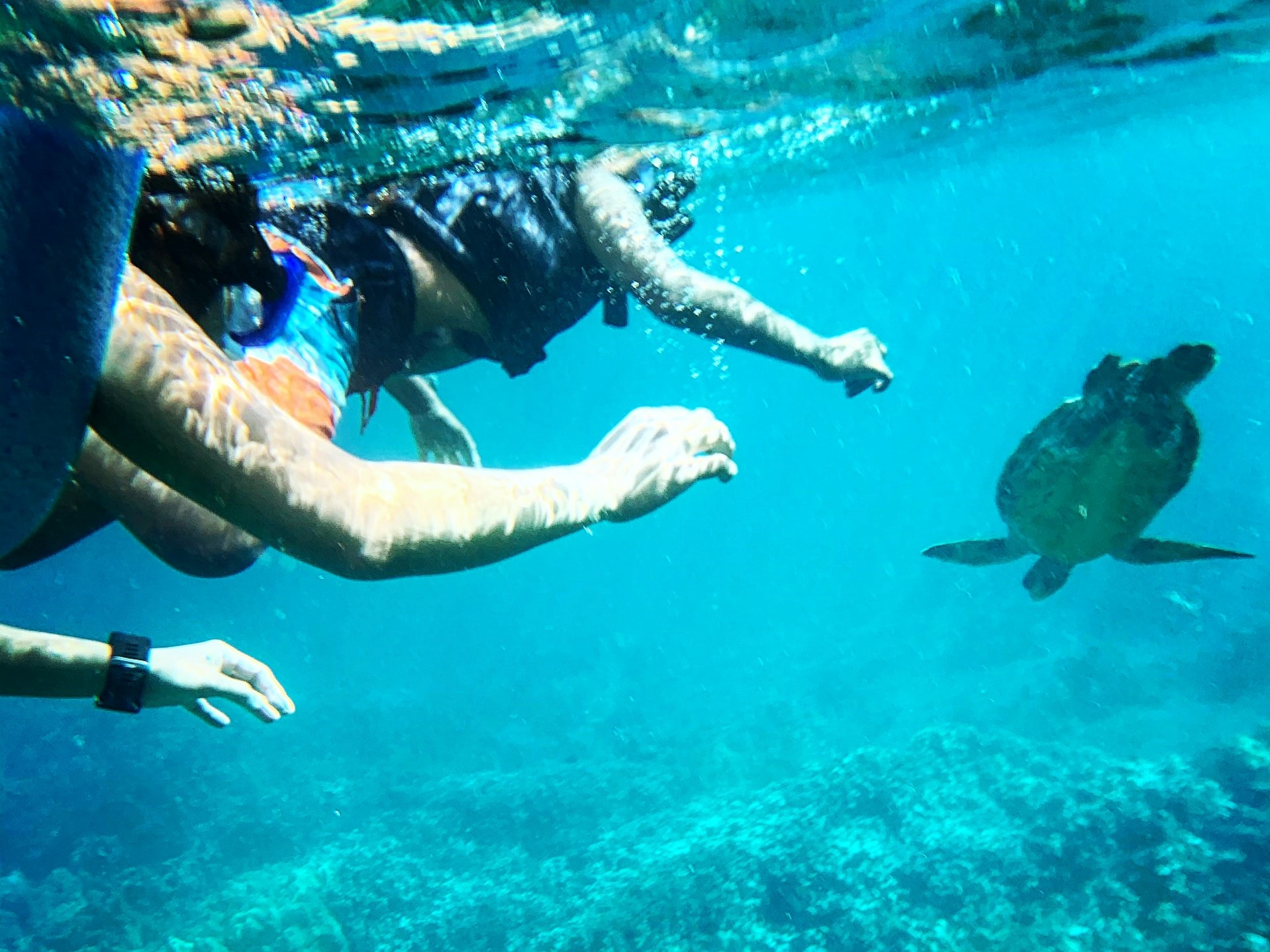 How to Have the Best Snorkel Experience in Greece
Now we've covered what to wear snorkeling let's chat about how to have the best snorkeling experience, especially if it's your first time.
Snorkelling in Greece can be a great experience whether you join a trip or just go out with your own snorkeling gear.
Join a Trip or Tour
Look online to find snorkel tours or boat trips with snorkeling.
This is a good option if you're a bit nervous about being in open water. There'll be lots of other people nearby and the boat on hand too.
Ask your hotel for recommendations when you arrive. Some places have more exciting coastlines than others.
You might even find a shipwreck or two that you can see just from the surface without having to dive down.
Find a Good Spot Where You're Staying
If you're going independently my general rule for the best snorkeling experience is to look for rocks or a quieter beach.
It's a good idea to not go to a quiet beach alone (although I'm not good at following my own advice).
I like going where fewer people are scaring off the fish so I can see them all. But do what you need to do to look after your own safety.
Best Places to Snorkel
Because some islands in Greece have quite rocky coastlines you can still find a lot to see in busier beach areas.
The edge of the beach can be a good snorkeling spot if there are small rock formations. But you'll be surprised at how many fish there can be even really close to the sand.
Some beaches have rocks in the water where you get in and they create a bit of a drop-off. This shallow water can be one of the best places to see fish and other aquatic life right near the shore.
Anyway lot of Greek beach towns have dive centres. Asking in there can be a great way of finding the best spots for snorkeling.
Don't Touch Anything!
One of my most important tips! Although you might be tempted to swim up to the rocks to get a closer look don't touch anything.
It's for your own safety as well as the preservation of sea life.
You don't know what might sting you or be poisonous so keep your hands clear. I don't think there's too much danger in Greek seas but follow the universal diving rule anyway.
Watch Out for JellyFish
Some beaches have been affected by high numbers of jellyfish being blown into them.
If that's happening during your stay the locals will advise you on which beaches are better to use for swimming or snorkeling at that particular time.
You might see some of this type of jellyfish.
But it's these purple ones with the painful sting that you might see bigger numbers of.
The Best Time for Snorkeling
The water temperatures in Greece vary quite a bit throughout the year. The best time for snorkeling in comfortable water is from the end of May until the beginning of November.
If you're brave you can go snorkeling from April and into December.
But getting in during April is classed as cold water swimming so take care of how it can affect you.
You could use a wet suit if you want to go snorkeling during winterand the water isn't too choppy.
Visiting the Beach on a Windy Island
Whenever you go you'll find some islands are windier than others. Check with the locals which beaches are best on a particular day.
You can still find beaches with calm waters for snorkeling on windy days. Some face different directions even along the same bit of coast.
What More Fun Activities?
Now you know what to wear snorkeling in Greece and how to have a great time snorkeling here's want else to do:
This page may contain affiliate links. Read through my privacy page for more information.
---
Suzie Young
Suzie writes informative posts for solo, nervous or first-time travellers to Greece, Turkey and other countries on her 50-before-50 bucket list. She became a Greek resident in 2020 and intends to visit every inhabited island (13 down!).